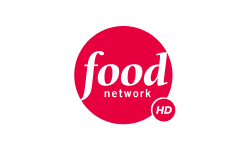 TV channel Food Network HD
is not available in your area
We're sorry for the inconvenience
EPG Food Network HD
Food Network HD is an unusual TV resource where the viewer enjoys culinary-related content. Despite the channel's focus, there are no boring and traditional shows or shows on the air. All the programs that you can watch on Food Network HD online will please you with novelty, ease, pleasant presentation and relevance.
Food Network HD Channel Features
Despite the opinion that cooking is a hobby exclusively female, the channel is able to interest men and children. There are no restrictions on viewing content, and programs on Food Network HD will be useful for the whole family.
The channel offers a unique and completely atypical approach to cooking and cooking, because cooking is not only monotonous standing at the stove or constant cutting of products. This is a creative process to share and inspire viewers. That is why everyone is advised to watch Food Network HD:
women who want to please their family with fresh recipes;
Beginners in cooking, learning the basics of the cooking process;
experienced chefs who want to learn secrets and subtleties;
teens who just have to deal with cooking;
everyone who likes to watch team games and competitions;
TV series fans who dream of plunging into the world of cooking and intrigue;
lovers of light content without violence and cruelty.
Food Network HD programs can be divided into several groups: series, team competitions, live shows, live shows, educational programs, historical excursions, meeting famous people, and master classes. The most popular programs are those that inform about cuisines of the world, competitive games, interviews with masters of culinary, entertainment shows, reviews of establishments around the world, series on culinary themes.
A prominent representative of the genre is the series «Kitchen», which was liked by TV viewers and gathered a significant audience. This is a story about the daily work of the restaurant, closely intertwined with the fate of the main characters. The viewer can look not only at the work of the kitchen from the inside, but also at the relationship of the team, management, owners, customers. Funny and funny situations, love, friendship are all on the Food Network HD online.
Among the favorite programs of the show «To pieces», where the teams fight for the championship, and the «Battle of the confectioners», where they determine the king or queen of desserts. Transmission cycles about dishes of various cuisines of the world, reviews of popular cafes and restaurants, educational programs that teach new techniques and cooking secrets are also popular.
Benefits of Sweet.tv
To watch Food Network HD online (or any other channel), you need to connect to Sweet.tv interactive television, which allows you to enjoy a clear picture, wonderful sound and interesting content. It's convenient that you can turn on channels everywhere, even outside the home, because you only need Internet access for this.