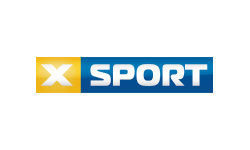 TV channel Xsport HD
is not available in your area
We're sorry for the inconvenience
EPG Xsport HD
Xsport HD TV channel, which is broadcast on the territory of Ukraine. It is dedicated to a healthy lifestyle, sports, broadcasting around the clock without interruptions.
Xsport HD Channel Features
For the first time, the television channel began work in early 2012, but then it went under the name Hockey and specialized in broadcasting programs of this particular direction. It was originally created as a social media project that was supposed to support this sport.
Already in 2013, he changed the format and became the multisports and multidisciplinary brand of Xsport HD. The line of hockey programs now includes the most popular sports among the audience of Ukrainian fans. The most popular areas are:
football, basketball;
mixed martial arts, boxing;
biathlon, tennis;
athletics, running;
fishing and extreme sports.
After that, Xsport HD partially changed the audience, increasing the number of viewers due to new fans and fans of sports broadcasts. Since 2016, the channel has become the main media partner of the Ukrainian Hockey League.
Xsport HD Audience and Content
The audience is all fans of Ukrainian sports, without exception, fans of a vibrant lifestyle and extreme sports. The channel develops unique content and organically mixes it with different matches, games, championships.
So, in the Xsport HD TV shows online show:
broadcast of national matches or performances of Ukrainian teams in international games;
Ukrainian boxing and MMA;
football matches of the First and Second leagues, Cup of Ukraine;
live broadcasts of cycle marathons and races;
billiard, tennis and badminton tournaments;
Information programs for many sports.
Among the unique content there are such projects as:
Fight live martial arts project;
Straight mov, No comments news;
Week UHL program about the highlights of the life of the Ukrainian Hockey League;
Extra futsal summarizing futsal.
Xsport HD online TV channel is diluting the range of sports programs with news, educational programs and web conferences with the country's leading sports newsmakers. The goals of the channel are to talk about Ukrainian sport, promote it, identify the main problems, familiarize Ukrainian spectators with the heroes of domestic sports, and attract an audience to an active lifestyle.
Benefits of Online Broadcasting on Sweet.tv
You can watch Xsport HD online using the Sweet.tv television service. TV broadcasts and live broadcasts are now available at any time, because on the Private TV platform, broadcasts are stored in recordings. The platform works by prior subscription. You can choose the tariff of interest (all conditions are described on the website with prices, a list of channels and special offers), after registering. In this case, you get a free subscription for the first seven days.
The application allows you to use one contract simultaneously on five devices so that Sweet.tv online TV is always there. It offers more than five thousand films, TV shows and cartoons in Full HD quality.
Where to watch Xsport HD?
To watch the Xsport HD TV channel, you can use the sweet.tv online service, which gives you access to a large list of channels and video content. It can be used both with a standard computer browser and with an application. To download it, just go to the original App Store or Google Play.
How to watch Xsport HD using internet TV?
To watch the Xsport HD TV channel, you just need to go through authorization on the sweet.tv service website or in the original application. This procedure is performed via SMS and takes no more than two minutes. Immediately after that, users get access to a large number of channels for a wide variety of tastes.
When was Xsport HD created?
The nationwide sports TV channel Xsport HD began broadcasting in a test version on January 16, 2012, and in a full-fledged version on January 22 of the same year. However, on January 1, 2015, the broadcasts were temporarily suspended until April 13, 2016, when the channel resumed its activity in DVB-T2, as well as in satellite format.
What is the broadcast theme for Xsport HD?
The Xsport HD channel is focused on showing sports content, including broadcasts of mixed martial arts and boxing matches, matches of the Ukrainian Hockey League and football analytical and heating programs. There are also feature films and documentaries aimed at a male audience on the air.