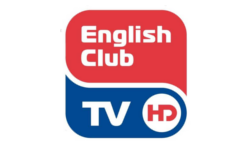 TV channel English Club TV HD
is not available in your area
We're sorry for the inconvenience
EPG English Club TV HD
The English Club TV HD channel is working for everyone and will help you quickly and easily learn a foreign language. Various cartoons, programs, thematic lessons with native speakers from different countries are being broadcast live.
Today, English Club TV HD can be watched online in 76 countries. The effectiveness of this type of training is high: according to preliminary data, regular viewing of specialized programs in English for 15 minutes daily allows you to learn many new words and stable expressions every year.
Audience and features of English Club TV HD
The educational and developing English Club TV HD channel is suitable for all, without exception, both adults and children. The youngest age from which it is worth including programs is 3 years. However, everyone can listen to classes, since there is a theory that children who have not yet learned to speak independently hear the speech of others and remember it.
For ease of learning, the English Club TV HD channel divided the content into blocks depending on the initial level of the viewer. Everyone who turns on the air understands at what time the transmission will take place, corresponding to his knowledge. Types of gear units:
A — for those who are just starting to learn a foreign language;
B — is suitable for medium to medium and above medium categories;
C — a course for advanced users and teachers of foreign languages.
To qualitatively learn English, it is necessary to train several channels of perception of audio, vision, and speech at once. Only an integrated approach allows you to overcome the language barrier.
Channel English Club TV HD airtime is split into 6-hour blocks. In each of them several mini-lessons are held, where they explain a topic. The first thing that everyone does during the lesson is the assimilation of new material. For this, teaching aids, vivid examples, special exercises and texts are used. The actions of the audience are as follows:
eye contact;
listening perception;
filling in lines, adding words;
choosing the right answer;
reading with further testing by the announcer.
Programs for kids are very popular. After all, it is them who have to not only be trained, but also interested. Game form, vivid pictures, animation are the main factors for successful study of the material.
In order for a boy or girl to quickly learn popular words and phrases, the channel broadcasts thematic video tutorials, for example, on cooking, outdoor games, visiting the zoo, and traveling. Such classes not only improve vocabulary, but also contribute to overall development.
Benefits of connecting Sweet.tv
There are many reasons why you should prefer Sweet.tv. Firstly, to watch channels, you don't have to call a team of masters, stretch wires or install an antenna outside the window. An ordinary Internet connection from any provider is enough. Secondly, you can watch TV from several devices on your TV, tablet or mobile. Thirdly, the high quality of interactive television will not leave anyone indifferent.