Sweet.TV
Best TV channels and a large selection of movies in HD and 4K.
Watch on 4 devices in one subscription.
The first 30 days are free without a bank card.
What is included in SWEET.TV subscription?
Channels in
HD/4K quality
Record, pause and rewind live TV
Watch in best quality
HD and 4K
Quality is our second name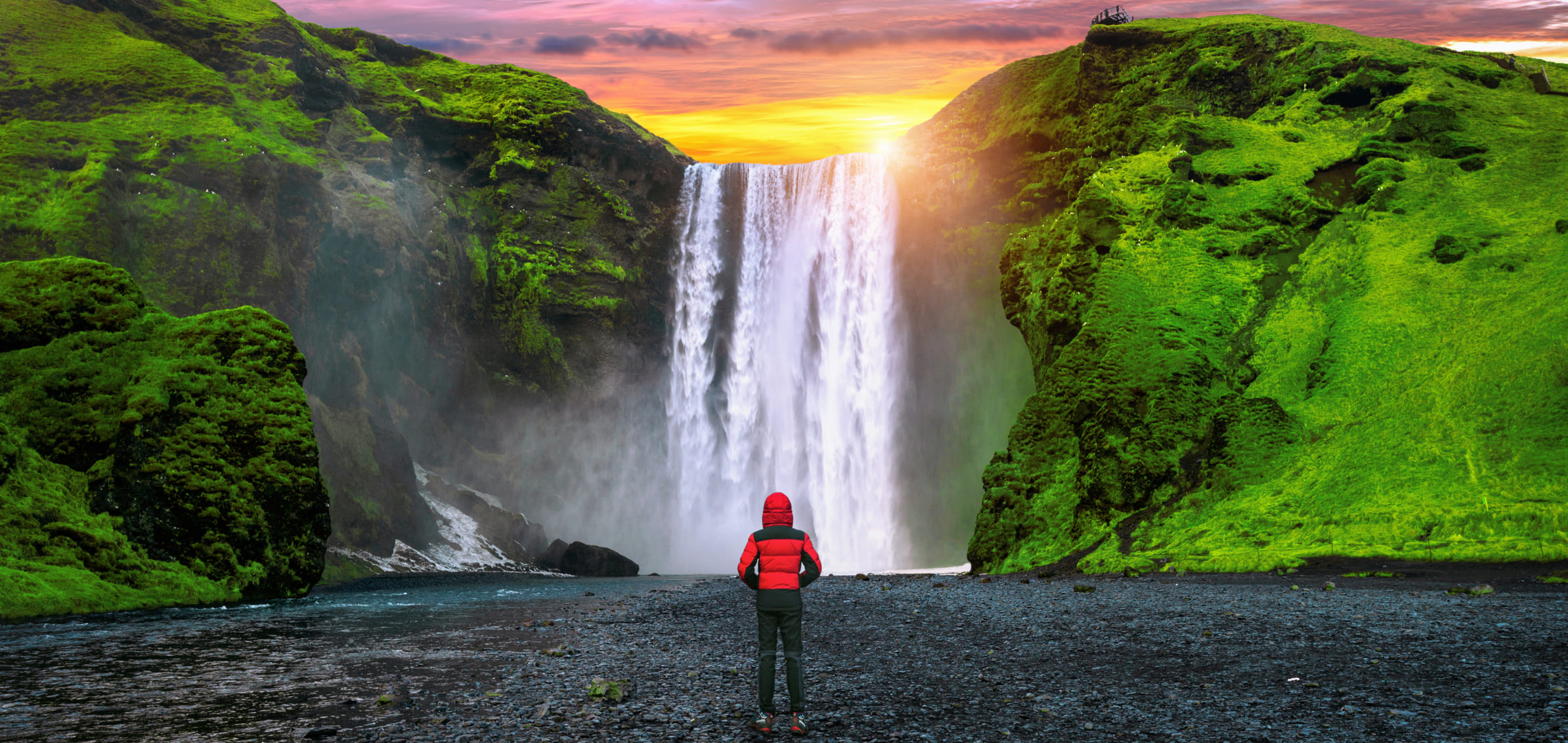 Quality with SWEET.TV

Quality without SWEET.TV
Available on Smart TV
and more!
SWEET.TV is available on all of the world's most popular platforms.
Just one click - and enjoy watching!
Why SWEET.TV?
Cable
TV
Satellite
TV
SWEET.TV
Image quality
SD (HD)
SD (HD)
SD,HD,4K
Devices in one subscription
1
1
4
Time-shift broadcast
No
No
Yes
Set-up time
1+ day
1+ day
1-2 minutes
Sign in
on 4 devices
Smart TV, smartphone, computer, tablet - you
choose where and when to watch.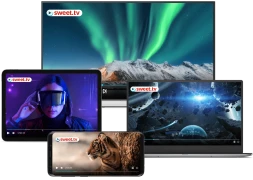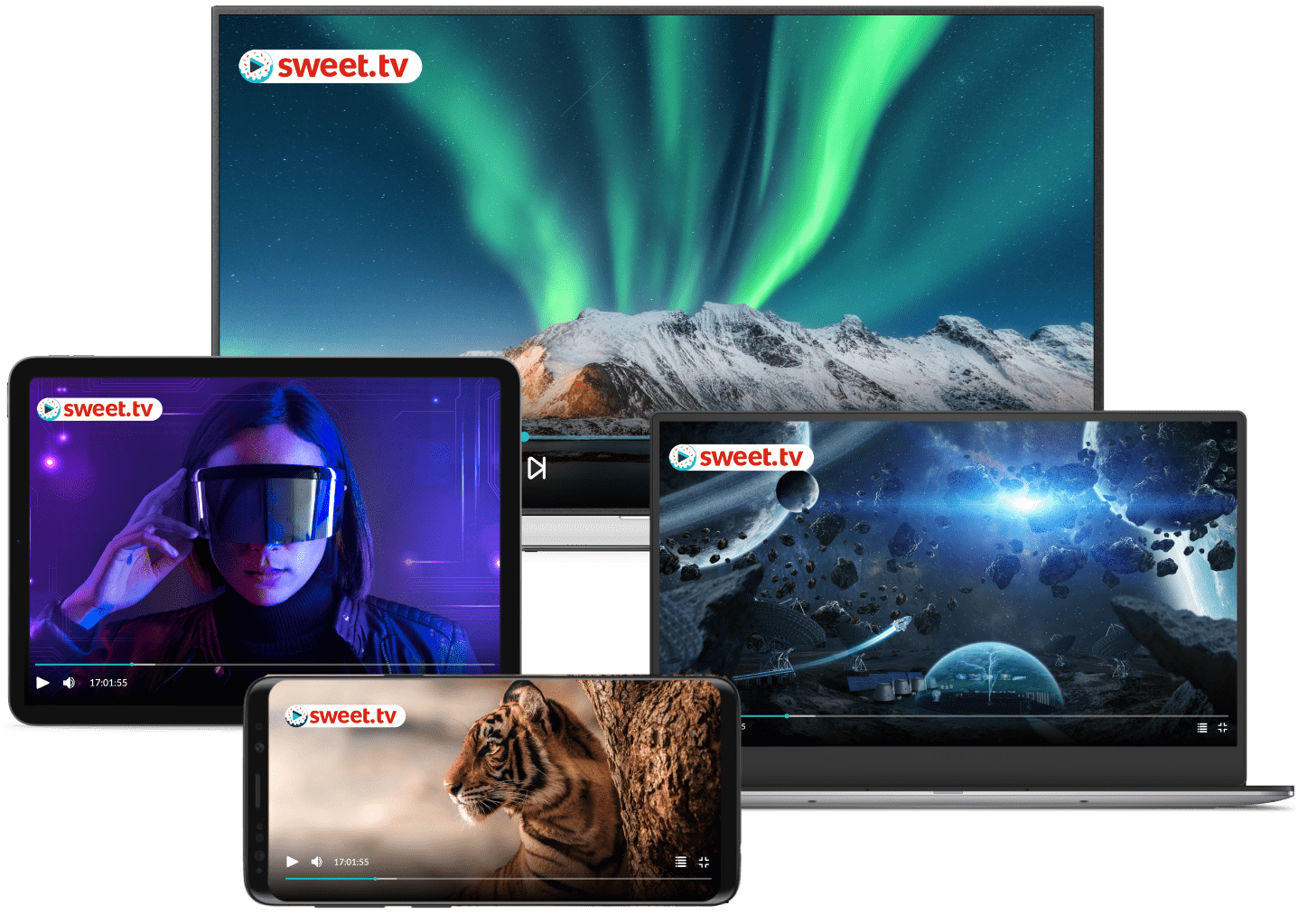 Frequently Asked Questions
What is SWEET.TV subscription?
SWEET.TV subscription is 24/7 access to the best TV channels and top movies in one application. With SWEET.TV subscription, you can watch your favorite content in HD and 4K. It allows you to connect up to 4 devices in 1 subscription, meaning you can watch TV channels and movies anywhere and anytime - on all SMART TV at your home, on your smartphone while on the go, or to share a subscription with your parents and friends.
Try it now for free for 15 days! No contract or bank card.
You only need the internet.
How to subscribe to SWEET.TV?
It only takes a minute with no contract obligations or payments in advance.

1. Sign up on SWEET.TV. You can make it on each possible device (Smart TV, set-top-box, laptop, smartphone etc).
2. Choose a subscription plan or try SWEET.TV for 15 days for free!

That is it.
How do you renew or cancel the subscription?
While purchasing subscription, choose one of convenient and secure payment methods available. You can choose whether to enable automatic renewal or to pay for your subscription manually each month. Also you can buy long-term subscriptions (6 and 12 months).
To cancel automatic renewal of subscription - just remove the payment method in your profile.
No commitment. Start and stop whenever you want.
How does the free trial period work?
You will get access to the maximum SWEET.TV subscription plan for 7 days for free and without adding a card. And you can fully test the service and enjoy all the benefits.
Then you can choose: either to renew the subscription plan for 14 days for only 1 Euro, or activate the maximum subscription plan for a month.
If you choose 14 days for 1 Euro you will still have the maximum SWEET.TV package. And after 14 days it will automatically be renewed for another month. You can turn off auto renewal at any time in your Profile.
What does "time-shift" mean?
While watching TV-channels on SWEET.TV, you can:
- pause the live broadcast,
- rewind to watch moments you missed,
- watch recorded TV programs available for up to 7 days after the live broadcast.
With SWEET.TV, you can enjoy your favorite TV-shows whenever it is convenient for you!
How many devices are supported?
You can sign in on 4 devices per 1 subscription. You decide what type of devices you connect. No matter if it is 4 phones, tablets or SMART TVs. Everything is allowed.
Try for free 15 days