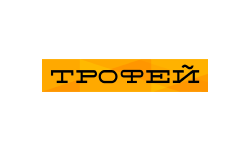 TV channel Trofei HD
is not available in your area
We're sorry for the inconvenience
TV program is not available for this channel
Trophy HD is a Ukrainian national television channel that began broadcasting in Ukraine in April 2014. It belongs to a popular in Ukraine company engaged in the production of films, series and interesting informative and entertaining television programs. At first, the platform positioned itself only as a satellite TV channel and was in SD format. Now the channel has expanded its position and has been included in the lists of many Ukrainian providers (cable and online television).
Features of the Trophy HD TV channel
The channel considers the mission and mission to identify the positive aspects of outdoor recreation. The organizers want to attract as many viewers as possible to an active lifestyle, so they broadcast unique content for Ukrainian television and there are really no such sites in Ukraine.
Another direction in which the Trophy HD wants to develop, is the acquaintance of viewers with the nature of Ukraine. There are several broadcasts on the air that are dedicated to forests, rivers, amazing places in the territory of our state.
The Trophy HD channel delineates audiences not by gender or age. Children, youth, and middle-aged people can be interested in content. Television is aimed at viewers who love fishing, hunting or walking in the fresh air. The channel is saturated with a special atmosphere of nature. After several hours of viewing, I want to postpone all things and go to the forest or park. The Trophy HD TV channel is dedicated to the following areas: hunting, fishing, picking mushrooms, herbs or berries, cooking.
The programs and programs that take up the Trophy HD broadcast include the following topics:
family fishing;
city fishing;
cooking shows;
fishing and hunting news;
picking herbs and berries;
calendar fishing;
secrets of hunting.
Sometimes there are films or TV shows, in meaning related to the thematic focus of the channel. Many products recommended in advertisements or programs can be bought in the online store of captured items. You can find it on the official website of the channel. The most popular programs are:
Hunter calendar;
What are you pecking at ?;
Armory School;
Workshop;
«Old school fishing».
First of all, the creators care about the usefulness and quality of the information that the channel offers viewers. These are usually helpful tips and tricks to greatly simplify the lives of hunters and anglers.
Where can I find the Trophy HD channel?
Watching all the programs of the Trophy HD TV channel online is much more interesting and easier. To enjoy live broadcasts on TV, you can use the Sweet.tv application. Advantages of our service:
good image quality;
a large library of hundreds of channels and thousands of films;
ongoing content updates;
several different rates with excellent conditions;
seven days after registration for free;
you can connect five different devices at the same time.
Download the application and watch the Trophy HD online wherever convenient. For good data transfer, only 3 Mbps is enough.