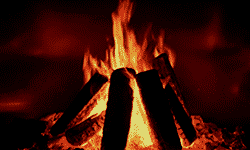 TV channel Fireplace 4K
is not available in your area
We're sorry for the inconvenience
TV program is not available for this channel
Fireplace - one of the most unusual TV channels, created specifically for recreation. Here, viewers will not see ad units, the latest news or movies. The Fireplace channel broadcasts paintings that are relaxing around the clock.
Fireplace Features
The TV program is not very diverse, but the Fireplace channel is incredibly successful. Watch Fireplace can those who want to relax from a busy day or create a romantic atmosphere.
Around the clock live shows various types of burning fireplaces. Such content pacifies and calms. Fireplace displays fireplaces of various types, accompanying the video with the sound of rain and other pleasant sounds. Unobtrusive music plays all the time.
The main audience of the audience are people whose work is associated with stress. After a busy day, there is nothing better than relieving stress while watching the blazing logs in the fireplace. Especially the channel will appeal to those who have a modern plasma panel and a good quality audio system. Such equipment allows you to maximize your relaxation.
Making dinner romantic has become much easier: just turn on the Fireplace channel and enjoy the fire of the fireplace. There is another purpose of such content. It is suitable for:
meditations - it's easiest to plunge into your own thoughts, observing fire or water, and the TV channel gives everyone an opportunity to learn the secrets of themselves;
fast falling asleep - if the work is connected with overstrain, it's very difficult to fall asleep in the evening, but observing the flashing of the flame can relax and put you to sleep;
Yoga classes - unobtrusive music and fire on the screen - the best accompaniment for independent classes.
Also, a burning fireplace on the screen can be used as a night lamp. To move around the apartment at night you do not have to turn on the light: a flame on the screen will illuminate the room. The TV program is not very diverse, but there are many reasons why the Fireplace channel is very popular.
How to watch the Fireplace channel in Ukraine?
You can watch Fireplace online in HD quality if you connect to Sweet.tv. A resident of any locality in Ukraine will enjoy the programs on his device. Just try the service for free for 7 days and choose the most suitable tariff.
Sweet.tv users get a lot of benefits:
access to hundreds of Ukrainian and foreign TV channels;
a library of thousands of films from 2000-2020;
program for each channel;
view broadcasts on record;
TV shows of various directions - you choose what content will be interesting;
high quality broadcasts.
The Fireplace channel online is now available to everyone thanks to the service Sweet.tv. Be positive and relax after a busy day. To do this, just watch Fireplace online.