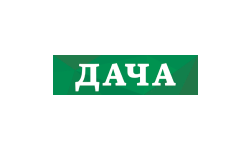 TV channel Dacha HD
is not available in your area
We're sorry for the inconvenience
Cottage HD — TV channel, which is based on gardening and crop production. It is intended for people who want to take care of their own plot correctly and easily, learn useful life hacks and enjoy nature. A private house is associated not only with hard work and several hundred square meters of land. It is also outdoor recreation, cricket singing in the evenings and a lot of fresh air. Therefore, the channel, which is dedicated to just such a leisure, will be a pleasant addition for lovers of country relaxation.
Dacha HD TV Channel: Audience and Programs
Channel Cottage HD is intended for people who have cottages and who want to learn more about construction, saving money on repairs, creating design inventions and other subtleties. The best specialists in their field tell about all this. Most of the audience is women, but according to age restrictions, the channel gives a rating of 6+. Therefore, children and teenagers can watch programs.
The main content is useful to many people. The TV program includes the following topics:
garden;
home and indoor plants;
construction of houses, baths or other objects on the site;
large-scale and local repair;
farming and household;
cooking;
humorous and entertaining programs.
The goal of the channel is to be as useful as possible to the audience and solve their problems. The channel itself selects only high-quality programs of foreign production and strives for good content. Today, the company rarely resorts to using someone else's production, because during its existence it was able to shoot enough material. Cottage HD online is a unique Ukrainian channel that has no competitors on domestic television.
In general, the Dacha HD channel with the content of the broadcasting grid practically does not differ from the same TV channel, which works in SD format. The difference is in signal quality and image. The most popular programs are «Construction Glad», «Your Garden», «Ideal Masters», «Cozy Cottage».
Channel Cottage HD online is a convenient solution for everyone. Not every city dweller in the country has a TV and a service provider package, and you can watch online TV anytime, anywhere. Connect one of Sweet.tv tariffs to enjoy watching your favorite channels or movie premiere.
Benefits of Sweet.tv
Channel Dacha HD online will become much more accessible, because it is on the list of many TV projects that are implemented on the Sweet.tv platform. Benefits of using the service:
several rates with different offers;
the opportunity to use the application for free for the first seven days;
hundreds of TV channels in excellent quality and more than 5000 television projects, the library of which is constantly updated;
the ability to connect up to five devices to one account at once.
With a simple interface, you can easily find your favorite movies, shows, TV shows.