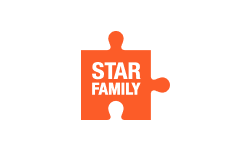 TV channel Star Family
is not available in your area
We're sorry for the inconvenience
Star Family Channel offers feature films of Russian and Ukrainian production for the whole family. Star Media registered in Ukraine is involved in the production of films and shows them in good quality in Russia, Ukraine, Belarus.
Star Family Channel online presents a new Russian-language movie - all films have been shot in recent years. Their viewing will diversify the leisure of the viewer who is accustomed to high-profile blockbusters of Western and domestic production in cinema and old films in Russian on television.
Star Family Target Audience
The channel offers content recommended for children from 14 years old and adults. The TV program is distributed in time so as to take into account the various interests of people:
TV shows and melodramas for women go in the daytime, most often housewives watch them;
cognitive programs are shown in the afternoon, when students return from school;
in the evening prime time on Star Family films and programs that you can watch with your family;
late evening - time for detectives, thrillers and other action films.
Star Family Films and Programs
The TV channel actively forms the on-air content by creating films independently or with partners. Broadcasting is provided mainly by its own original products. Here are some of the films that Star Media makes:
Do not rush love! - a comedy about the adventures of a thirty-year-old woman of not the most elegant forms in search of a friend's life, which takes place not without adventures, but ends with love and wealth;
I will give my wife in good hands - a forty-year-old successful man rushes into intrigue because of new love with the risk of losing his family and everything that he has. At some point, he needs to make a decisive choice;
The last role of Rita is a tragic melodrama about the famous actress who adopted a child, but lost her husband and is on the verge of her own death from illness;
I teach guitar playing - the story of the first meeting and romance of a couple who lived together all their lives. It all started with the lessons of playing the guitar in the difficult nineties and continued many years later;
Puppet dancing - a detective story about a businessman, his daughter, private investigators and a possible crime;
Flight of the butterfly - a melodrama about running away from her husband, friendship of two children, work and new love after all the trials;
Time to love - a film about the adventures of three friends who went to the resort to escape from life's hardships.
Star Family Channel prepared many films and programs in direct collaboration with Ukrainian and CIS studios or by order of television companies in these countries. As a result of such cooperation, on the screen you can see famous and less famous actors from neighboring countries.
Women's theme on Sweet.tv
Those who like to watch Star Family online can go to another channel from the Sweet.tv catalog - Sony Channel. The channel is aimed at a female audience, broadcasting interesting shows, series and films on its air. Those who have not yet decided on preferences can choose TV from more than 265 channels in the catalog or watch thousands of films and TV shows from the archive. An extensive video library is always at hand anywhere where there is Internet.