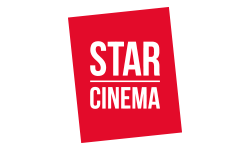 TV channel Star Cinema
is not available in your area
We're sorry for the inconvenience
Star Cinema is a TV channel that broadcasts TV shows and films from Star Media around the clock. For two years now, the Star Cinema channel has not stopped broadcasting, remaining in demand not only among residents of Ukraine, but also in many other countries. The reason for this popularity is quality content.
Star Cinema Channel: Key Features
Star Cinema is preferred by viewers over 25 years old. It is for this audience that the TV channel is designed. Adults are familiar with the feelings and feelings of the heroes of series and films, and many simply would like to be in the conditions that are shown in the cinema.
In addition to series and films, Star Cinema differs in that there is a minimum of advertising on the air. It's much nicer to enjoy the breathtaking motion picture without being distracted by the 10-minute ad units. The only thing that is advertised is the news of domestic cinema. In this way, the Star Cinema channel popularizes the domestic film product. You will not see annoying commercials, but only social and non-commercial advertising.
Also on the air there are documentary series of domestic production and films, which were shot on real events.
Before appearing on the blue screens, the Ukrainian channel underwent preliminary training, which lasted at least six months. At this time, materials for broadcasts were selected and specialists were recruited. The channel group is small, but consists of professionals, because many people want to watch Star Cinema online.
The main time is broadcasting TV shows from Star Media. Over the past decade, the company has filmed materials for several thousand hours. On the TV channel you will not see premieres, since here is only your favorite movie. Among the most popular series it is worth noting:
sharpie;
Women in love;
Anna Herman;
Karasi;
Life and adventures of the Bear Jap;
History of Ukraine.
These tapes have been running successfully for two years, but the air is regularly updated with a new product.
How to watch Star Cinema?
If you want to watch the Star Cinema channel online in Ukraine, it is most convenient to use the Sweet TV service. Here Star Cinema is broadcast online in good quality, which will allow you to enjoy your favorite shows and movies.
The service gives access to several hundred television channels and a television program. If you missed one of your favorite shows, don't be discouraged: almost every channel is available on record.
Start using Sweet.tv right now. To assess the convenience, use the access for free for 7 days. Then simply select the tariff plan S, M or L. The cheapest tariff has more than 170 channels, and the most expensive one has 267. Also, users of the service get access to several thousand films: 3000 for the cheapest tariff, more than 6500 cult TV shows for premium . Get high-quality media content with Sweet.tv.