Sweet.TV
Best TV channels and a large selection of movies in HD and 4K.
Watch on 4 devices in one subscription.
The first 7 days are free without a bank card.
What is included in the SWEET.TV subscription plan?
Channels in
HD/4K quality
Record, pause and rewind live TV
Watch in best quality
HD and 4K
Quality is our second name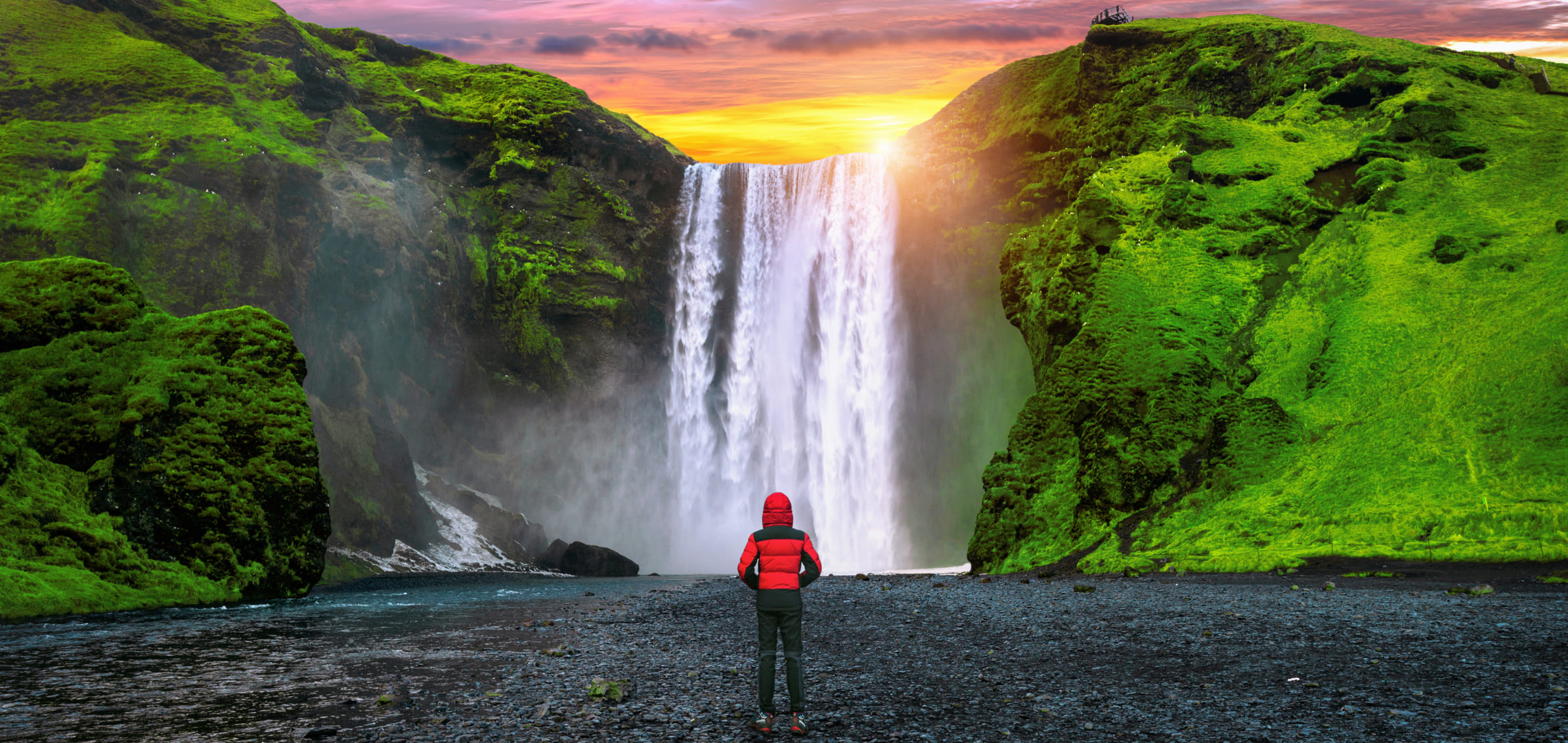 Quality with SWEET.TV

Quality without SWEET.TV
Available in Smart TV
and more!
SWEET.TV is available on all of the world's most popular platforms.
Just 1 click - and enjoy watching!
Why SWEET.TV Internet television
Cable
TV
Satellite
television
Internet TV
SWEET.TV
Image quality
SD (HD)
SD (HD)
SD,HD,4K
Simultaneously connected devices
1
1
4
Pause and rewind broadcast
No
No
Yes
Connection speed
1+ day
1+ day
1-2 minutes
You can connect
on 4 devices
In 1 subscription connect simultaneously Smart TV,
phone, computer, tablet and even Xbox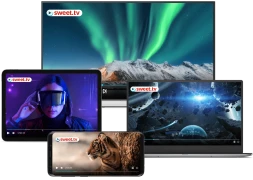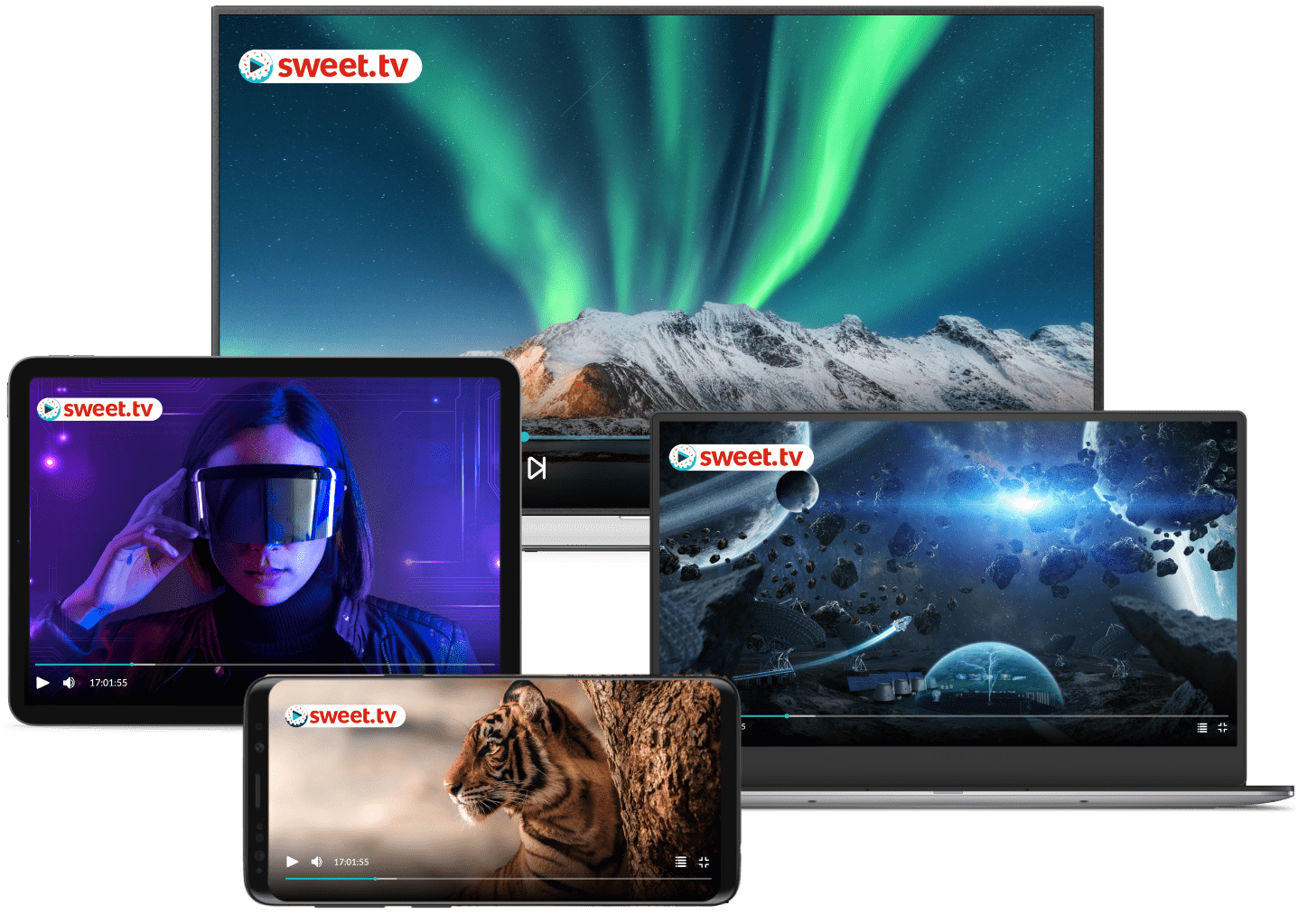 Once again about the most important
What are the benefits of a SWEET.TV subscription?
A SWEET.TV subscription gives you access to dubbed TV and movies that you can watch online anywhere: at home, on the road, in the city and outside the city. Even in the most remote corners of the country, the main thing is to have the Internet.
You will have excellent quality TV on your device, HD and 4K in particular. National, premium, sports, kids, music, movie and adult channels - each for everyone in the family.
You can control the TV: pause, rewind and watch recorded programs (up to 7 days). If you are late for a show or a match, turn it on immediately without waiting.
So, SWEET.TV is your movie + your favorite TV in excellent quality that you can watch where it is convenient for you.
How to subscribe to SWEET.TV?
Very simple! You should sign up to the service and select the desired subscription plan.
You can do this on the website or in the SWEET.TV app on any device.
Sign up in a convenient way: phone number, Google account, Facebook or Apple ID. This takes a minute. Then choose a subscription plan and top it up - and watch TV and movies in comfort.
How is the payment and renewal of the subscription plan carried out?
Choose the desired subscription plan and pay by bank card. Then the card will be added to your Profile. It is completely safe and secure. Only you can manage your card!
Then the subscription plan will be automatically renewed monthly, and you will not have to spend extra time on top up.
How does the free trial period work?
You will get access to the maximum SWEET.TV subscription plan for 7 days for free and without adding a card. And you can fully test the service and enjoy all the benefits.
Then you can choose: either to renew the subscription plan for 14 days for only 1 Euro, or activate the maximum subscription plan for a month.
If you choose 14 days for 1 Euro you will still have the maximum SWEET.TV package. And after 14 days it will automatically be renewed for another month. You can turn off auto renewal at any time in your Profile.
What does live TV control mean?
In the SWEET.TV online cinema you can: pause live broadcast, rewind to watch any moment and watch recorded broadcasts available up to 7 days after the broadcast.
No more rushing and worrying about being late for the program start. With SWEET.TV you can enjoy your favorite shows whenever it's convenient for you!
What does "4 devices at one price" mean?
You can immediately connect 4 devices to your subscription plan: TV, smartphone, computer, tablet and Xbox. At no extra charge!
You decide which devices to connect. There is no restriction that only 2 TVs can be connected. Connect as many as 4 at once!
Have more questions?
Need help sign up?
Email us 24/7!
info@sweet.tv